The confirmation of this provisional admission is subject to your possession of minimum entry requirement for the programme to which you have been offered this admission with the following conditions;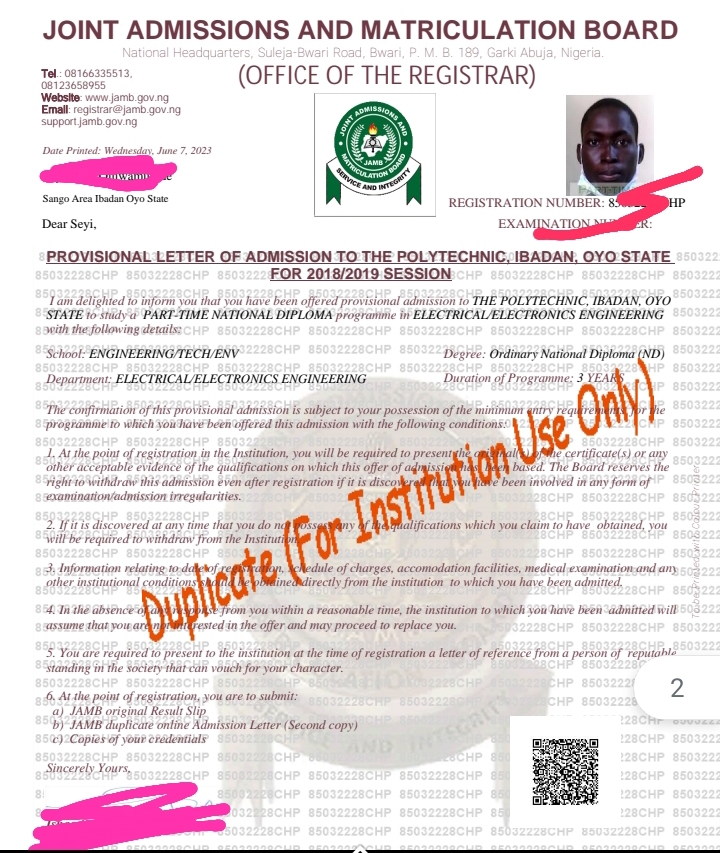 JAMB PROVISIONAL ADMISSION LETTER
At the point of registration in the institution, you will be required to present the original(s) certificate(s) or any other acceptable evidence of the qualifications on which this admission has been based. The board reserves the right to withdraw this admission even after registration if it is discovered that you have been involved in any form of examination/admission irregularities.
If it is discovered at any time that you did not posses any of the qualifications which you claim to have obtained, you will be required to withdraw from the institution.
Information relating to date of registration, schedule of charges, accommodation facilities, medical examination and other institution conditions should be obtained directly from the institution to which you have been admitted.
In the absence of any response from you within a reasonable time, the institution to which you have been admitted will assume that you're not interested in the offer and may proceed to replace you.
You are required to present to the institution at the time of registration a letter of reference from a person of reputable standing in the society that can vouch for your character.
At the point of registration you're to submit;
JAMB original Result slip
JAMB duplicate admission letter
Copies of your credentials

Have JAMB started giving admission to students that did JAMB regularization for NYSC, HND, And Direct Entry
Yes, JAMB has started giving admission to those part-time students that registered for jamb regularization. If you did registered for jamb regularization last year 2022, I'm glad to inform you that admission has started rolling out for part-time students that entered either university or polytechnic. The year included are part-time students that entered school 2016, 2017, 2018 and 2019 can now check their JAMB portal because admission is rolling out for student that did registered for JAMB regularization last year 2022
HOW DO I ACCEPT ADMISSION
Yes on desktop site, hit the ACCESS MY CAPS. and accept admission.
Then go to cyber cafe and print your admission letter. Year 2018
For those hearing JAMB regularization for the first time the information below is meant for you, read carefully.
JAMB Regularization 2023/2024
JAMB Regularization is a crucial process for students who gained admission to tertiary institutions through alternative routes such as direct entry (JUPEB, IJMB), part-time programs, or different courses in JAMB. This process ensures that their admissions are officially recognized by the Joint Admission and Matriculation Board (JAMB). In this guide, we will explore what JAMB Regularization entails, who is eligible for it, the requirements, and the steps to follow for a successful regularization.
What is JAMB Regularization?
JAMB Regularization, also known as late application, is the process through which JAMB officially recognizes admissions that were not initially processed by the board. It brings uniformity to the admission process and enables students to obtain their JAMB registration numbers and print their JAMB admission letters.
Who is Eligible for JAMB Regularization?
The following categories of students are eligible for JAMB Regularization:
a) Students whose admission is through direct entry (JUPEB, IJMB): These students need to register with JAMB, even though they may not be required to sit for the JAMB examination.
b) Part-time students: Admission to part-time programs is locally carried out by the respective institutions. To be eligible for NYSC as a part-time student, JAMB Regularization is necessary.
c) HND students: After completing their two-year ND program at a polytechnic, most students proceed to apply for HND. JAMB Regularization is required to ensure the recognition of their HND admission.
d) Those offered admission to a different course in JAMB: If the course a student was admitted to differs from the one they initially applied for in JAMB, they will need to apply for JAMB Regularization.
How Much Does JAMB Regularization Cost?
The cost of JAMB Regularization depends on whether the student already has a JAMB registration number: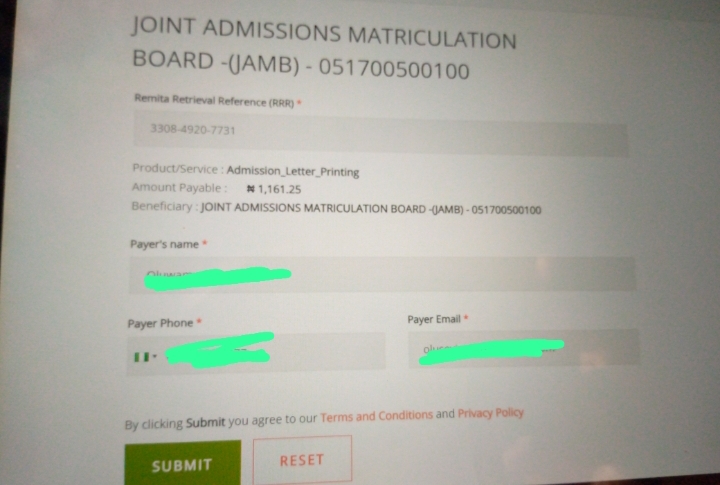 Students with JAMB registration numbers: ₦5,000
Students without JAMB registration numbers (admission obtained in a different year than their JAMB registration): ₦10,000
Requirements for JAMB Regularization
To proceed with JAMB Regularization, the following requirements must be met:
JAMB Registration Number (for students admitted in the same year as their JAMB registration)
₦5,000 (for students with JAMB registration numbers) or ₦10,000 (for students without JAMB registration numbers)
O' Level Result (WAEC/NECO/NABTEB)
Student's personal information (name, date of birth, gender, marital status, email address, phone number)
Student's admission/school information (course admitted into, school of admission, head of institution, registrar, matriculation number, matriculation year, graduation list)
JAMB result (if applicable)
How do JAMB go about Regularizing part-time students?
There are two methods for JAMB Regularization: processing at a JAMB office or online application through the student's portal. However, currently, the online application method is not functional, and JAMB Regularization can only be done at JAMB offices. Here are the steps to follow for JAMB Regularization at a JAMB office:
JAMB Regularization Processed at JAMB Office
Visit any JAMB office closest to you.
Bring all the necessary information and requirements.
Explain your purpose to the JAMB official, who will guide you through the process.
Make the required payment.
The JAMB official will initiate your regularization process and provide
Most of the conditions here you'll see in the picture below, to get more information about this visit www.jamb.gov.ng