How to write a cv letter for yourself
A job application is a critical matter that can make or break your chance of bagging a job. Note that recruiters have piles of applications flying in here and they spare 2-3 minutes max on each application. So your task is to lock the recruiter's attention on your resume. So how do you write a good compelling CV?
Things to note when writing a CV, in a centralized format at the CV Heading your full name( surname, first name and last name) should be the first thing and in capital form. Then followed by your house address in full. Don't just write a short address but a detailed one. An address that someone can use to get to your house with little or no stress at all, please be mindful of this because you can be disqualified in an interview for writing fake address. Then attach your phone number you normally use for official purposes e.g. your watsapp number.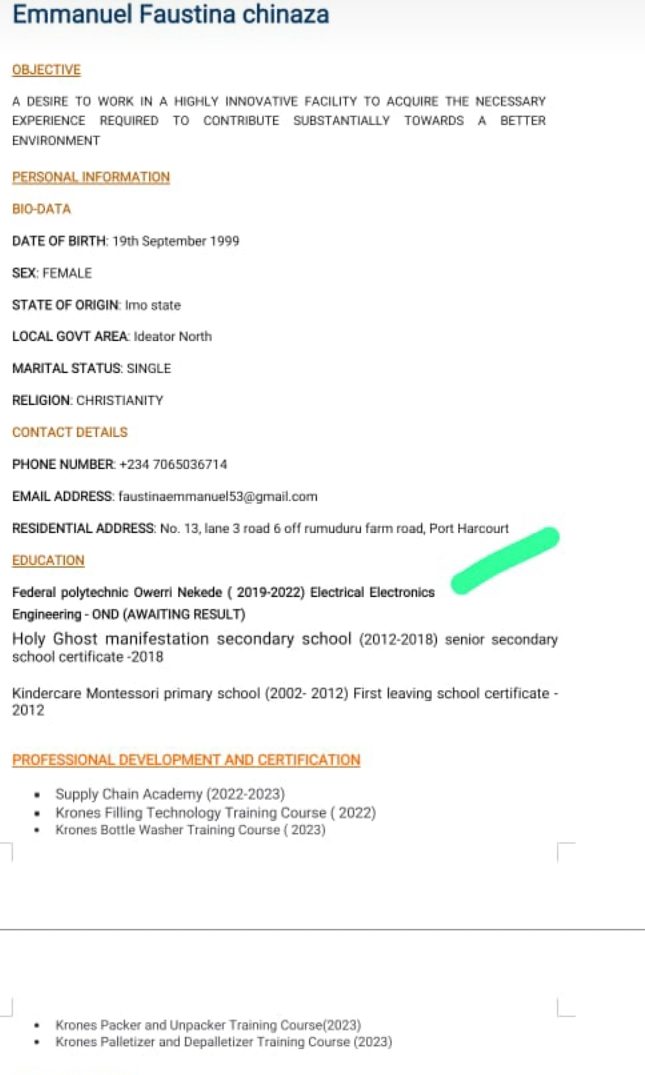 How do you write career objective on a CV
The next phase after formal heading is career objective
What is career objective? A career goal is the ideal state that you aim for in your professional life. Career goals can be characterized as short-term or long-term, depending on how much time you anticipate working toward achieving your goal in that particular organization.
It solely depends on what you can do/offer or what you expect the organization to be that makes you different from other applicants. You don't need to give a false message here, just be sincere to yourself.
PERSONAL DATA
The next phase after career objective is your bio data which includes date of birth, state of origin, you local government area, gender, marital status, nationality, religion and the language you speak etc.
Schools attended with date
Here you can write all schools you attended from kindergarten to the graduate you are today and also the year of study for each of them. E.g. Covenant Learners Academy, Kpeyegyi-abuja 2005 – 2011. Immediately after this you have educational qualification with date. Here you can include your first leaving school certificate (FLSC), senior secondary certificate examination and so on with date.
SKILLS
The skills list on your CV can be sub-divided into two; soft skills and hard skills. In simple terms, hard skills are the technical knowledge that help you get your job done whereas soft skills are the skills that help you navigate through day to day job activities in an excellent manner and some other things that are important to you or you can even do for free that can enhance your effectiveness in the job. E.g. , time management, good communication skills etc.
WORK EXPERIENCE
The work experience section on your resume should include include information about your professional history. Describe experiences from all paid work you've ever done including name of company, job role and date.
Hobbies
Hobbies can be seen as an activity or interest done regularly in one's leisure time for pleasure and not as a main occupation) Example of hobbies for a CV are playing sports(football, cricket, baseball, basketball etc), reading and writing, solving puzzle games etc
Referees
Referees can be seen as guarantors people that can stand for your good behavior. They should be a reputable person in the society, you must know their name, where they work, the post they hold in the society or place of work and phone number
A good example
OLUWAMUYIDE SEYI PETER
Address: Orange plaza, Kpeyegyi, FCT Abuja
Tel: 07025056477
CAREER OBJECTIVE:
To work in an organization that offers good opportunity career development where performance and result are the bench mark and watched.
PERSONAL DATA:
Date of Birth: 28th May, 2000.
State of Origin: Osun state
Local Govt. Area: Ife-east
Gender: Male
Marital Status: Single
Nationality: Nigeria
Religion: Christian
Language Spoken: Yoruba
SCHOOLS ATTENDED WITH DATE:
Covenant Learners Academy, Kpeyegyi, Abuja 2005-2011
Gudmerc High School, Kurudu, Abuja. 2011- 2017
The Polytechnic Ibadan 2021
EDUCATIONAL QUALIFICATION WITH DATES:
First school Leaving Certificate (FSLC) 2011
Senior Secondary Certificate Examination (SSCE) 2017
National Diploma Certificate 2021
SKILLS:
Good communication skills
Ability to accept responsibilities and a team player
Excellent interpersonal relations skills
WORK EXPERIENCE:
Lenz Faith Academy, Kpeyegyi, Abuja 2017-2019
Post: Teacher
HOBBIES:
Reading
Practising
REFEREES:
James 2. Imole Oluwamuyide
Tel: 08161111113 Tel: 07077079803